When you store with us, you're getting so much more than just self-storage! Our mission is to provide you service every step of the way – and that means you get access to a bunch of additional amenities you can't find anywhere else.
Discover all of the perks that come with our storage units, then find a California or Hawaii location near you!
Special Amenities
24-Hour Alarmed Units & Video Surveillance: We aim to provide you peace of mind when storing your belongings. Many of our locations are secured with electronic gate code access, monitored by video surveillance, and individually alarmed units.*
For extra security, our Service Attendants perform continuous security surveillance throughout the day, and some facilities have an on-site caretaker.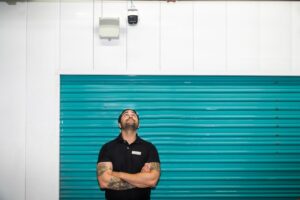 *Many of our locations are secured with one or more of the following security amenities: Electronic gate code access, video surveillance, and individually alarmed units.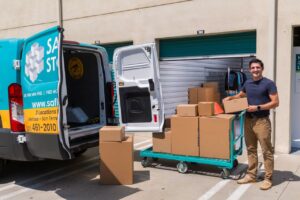 Dollies & Moving Carts: Take the load off your back! Our friendly, outside attendants are always available to bring you a cart to help you with your items anytime you access your unit, not just at move-in.
Electricity: Set up your workstation, plug in, and experience the convenience of having electrical outlets* in many of our units.
*Not available at all locations. Ask an associate for details.
Free Package Placement: Tired of getting "missed package" slips? Working late? Send your packages to us! We will gladly accept packages from all major delivery services, such as FedEx, UPS, and USPS, on your behalf and put them in your unit for storing or pick up.* All we ask is that you provide us with is a key or combination to the lock on your space. If the deliveries are infrequent or very small, you may choose to have them stored in the office for pick up.
*Limit 5 packages per month. Charges will apply for additional packages. Not available at all locations.
Online Payments: Why mail in your payment? It's easy to pay online at your convenience. You can also sign up for auto pay, where you can just set it and forget it. Simply register for an account online.
Move-In Gift: As a thank you for becoming one of our valued customers, when you move-in you will have a chance to give our Spin Wheel a whirl! You could win packing supplies, gift cards, rent credit, and more!
Forklift: We have many unique on-site services to support you. For our business customers, many locations have forklift certified attendants who will load onto or unload pallets from your truck with our free forklift service*.
*First 2 loads per month are free! Not available at all locations.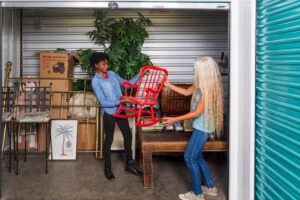 Customers are rolling up their storage doors! Selling your stuff can be a pain. BuyStorageFinds, our free online marketplace provides the perfect solution for buying and selling your stuff locally! No more meeting up in random places, meet your buyer at one of our fully staffed, monitored, and well-lit storage facilities instead. Find out more at BuyStorageFinds.
Man of our facilities also host a community-wide garage sale for our customers who want to participate and sell their goods. Join us for a fun-filled day and pull out your hidden treasures to make a little extra cash. All you have to do is stop by your facility and fill out a Garage Sale Participation Form.
---
Not sure what size you need?
Choosing the size unit is important. Our online size guide can help you visualize how your belongings will fit in your unit before you move in. Check out our size calculator at a specific location for a more accurate size recommendation.
---
See what our customers are saying!
95% of our customers would recommend us to someone they know
The staff are courteous and helpful. George answered all my questions and helped me bring all my stuff inside the storage. These guys made my move-in convenient and easy. Thanks, George and Marshall.
The process of getting into the unit was very good from the front desk, to being able to use their moving truck, and then to a couple of employees to help me unload into the unit.
Throughout our time there, we were able to reserve their convenient and super easy to drive moving truck a few times to transport new large items in and out. We even had some large items shipped there, and they were able to keep them at the office for me until I was able to stop by later that day
Andrea was especially helpful in helping me to set things up for a second storage unit. It was easy to purchase a lock on site and set up payments for the future. The facility is secure and gives one peace of mind.
This complex takes great pride in the presentation of their property. From the ceilings to the floor, the place is always spotless. In addition, they are energy efficient. There are lights in the hallways with timers and lights in every unit which is very convenient. As well as dollies in the hallways to help with big items.