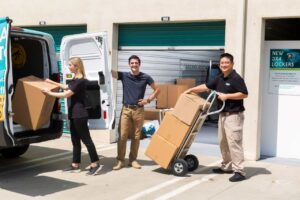 We understand moving can be an intimidating task. Whether it's your first time renting a unit or you're a seasoned storage pro, the assistance from our knowledgeable, professional staff will make the process a breeze. Explore our free move-in services, set a plan with the help of our moving guide, and get into your new space today.
Carry-In Service
If you've got more boxes than you have arms, we are happy to help with our free carry-in service. Our onsite staff will help transport boxes from your vehicle or trailer into your storage unit for up to 30 minutes to make your move-in experience a breeze. Our clean facility, wide hallways, and moving carts and dollies make it easy to get in, get out, and get on your way.
We're proud to offer our carry-in service during office hours. As a rule, this service is available for new move-in tenants only*.
*Special terms and weight restrictions apply.
Dollies & Moving Carts
Moving heavy furniture or odd-shaped boxes? Take the load off your back with dollies and moving carts available for use. Our attendants are always available to bring you a cart any time you stop by to access your unit, not just at move in. Whether you have a ground floor unit or choose one that is accessible by elevator, carts and dollies make transporting items through our facilities a seamless task.
Moving Truck With Storage Rental
The costs associated with moving can add up quickly, especially if you add on the expense to rent a moving truck. To help, we provide a free moving truck or moving van with every storage rental. Enjoy the convenience of unloading your items into your unit and dropping off the rental truck all at one location.
Select any size storage unit from small 5×5 units that hold just a few boxes to large 10×30 units that can fit a whole house and you'll receive access to a moving truck or van – and the first 20 miles are free*!
To use our free moving truck, make sure to bring:
A valid driver's license (must be 21 years or older)
Proof of liability insurance for drivers vehicle
Truck insurance and refundable deposit required
*Special terms and conditions apply. Free moving truck or van is available for initial move-ins only. Not available at all locations. Contact us for more information.
¹ All drivers must provide proof of liability for their own vehicle.
² We require all drivers to purchase truck insurance at time of rental for only $15. By purchasing Comprehensive & Collision coverage, customers can reduce their liability for most accident damage to the rental truck which is subject to the $1,000 deductible. We will hold a $150 deposit in cash or credit card to cover any charges for fuel replacement, late return, or other additional charges that may be incurred. Provided that there are no additional charges, we will release the deposit in full once the truck is returned.
Forklift Service for Business Customers
If you utilize business storage at Saf Keep Storage, you'll have access to our free on-site forklift service. Moving heavy items in and out of your unit can be a pain, literally, and take time out of your already busy schedule. Many of our locations have forklift certified attendants who can help load onto or unload pallets from your truck during office hours. Simply let us know when you'll be stopping by and we'll be ready for you!
First two loads per month are free. This service is not available at all locations.
Move-In Gift
We value each and every one of our customers. As a thank you for joining us, you'll have the chance at our Spin Wheel during move in. You have the chance to win packing supplies, gift cards, rent credit, and more!
Make Moving a Breeze with Saf Keep Storage
Take the stress out of moving with the help of free services from Saf Keep Storage. Enjoy carry-in service, access to a moving truck, a move-in gift, and more! Whether you're searching for storage in Los Angeles, Mountain View, San Francisco, or beyond, Saf Keep Storage has you covered. Find your nearest storage location and get started on your self storage journey today.
---
Not sure what size you need?
Choosing the size unit is important. Our online size guide can help you visualize how your belongings will fit in your unit before you move in. Check out our size calculator at a specific location for a more accurate size recommendation.
---
See what our customers are saying!
95% of our customers would recommend us to someone they know
The staff are courteous and helpful. George answered all my questions and helped me bring all my stuff inside the storage. These guys made my move-in convenient and easy. Thanks, George and Marshall.
The process of getting into the unit was very good from the front desk, to being able to use their moving truck, and then to a couple of employees to help me unload into the unit.
Throughout our time there, we were able to reserve their convenient and super easy to drive moving truck a few times to transport new large items in and out. We even had some large items shipped there, and they were able to keep them at the office for me until I was able to stop by later that day
Andrea was especially helpful in helping me to set things up for a second storage unit. It was easy to purchase a lock on site and set up payments for the future. The facility is secure and gives one peace of mind.
This complex takes great pride in the presentation of their property. From the ceilings to the floor, the place is always spotless. In addition, they are energy efficient. There are lights in the hallways with timers and lights in every unit which is very convenient. As well as dollies in the hallways to help with big items.