Packing and Moving Supplies
We want to make your storing and moving process as easy as possible by offering a one-stop shop for all your storing and moving needs*. We sell a wide range of boxes (including specialty boxes) and for extra protection, we also sell bubble wrap, fillers, packaging tape, and protective covers.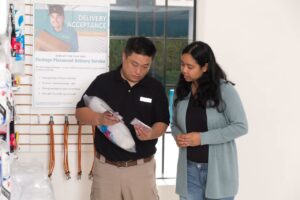 BOXES
Small, Medium, Large, and Extra Large boxes
Wardrobe Boxes
File Boxes
TV Cartons
Dish Cartons
BUBBLE WRAP & FILLERS
Bubble Wrap
Peanut Packing Material
Kraft Paper
Locks
Heavy Duty Keyed Locks
Heavy Duty Padlocks
PROTECTIVE COVERS
Mattress Bags (King, Queen, Double, Single)
Furniture Covers
Plastic Sheeting
Wrapping Paper
Tape
*Supplies inventory may vary by location.
Here are some helpful tips to better store your items.
Pack & Stack. Pack as much as you can with the same size box. Fill boxes tightly, but take care to neither over pack nor under pack. (Bulging boxes tip when stacked, while half full boxes tend to cave and collapse). Use wadded up newspaper, kraft paper, bubble wrap, rags/ towels, or blankets to fill in empty spaces.
Store Smart. When you pack your storage unit, create a center aisle for access to all items.
Store items you'll need most often at the front of the unit.
Packing Tape. Seal boxes tightly closed with packing tape to prevent dust from entering.
Prevent Scratching. Use furniture covers or pads to prevent scratching. Leave slipcovers on upholstered chairs and cover them with plastic chair covers. Tape or tie bed rails together. Place covers or plastic bags on mattresses to keep them clean during storage.
---
Not sure what size you need?
Choosing the size unit is important. Our online size guide can help you visualize how your belongings will fit in your unit before you move in. Check out our size calculator at a specific location for a more accurate size recommendation.
---