Smart Units
From finding the best way to pack your items to selecting a moving truck to prepping for the big day, there can be a lot of stress that comes along with moving. Don't let finding secure self storage be part of it. Partnering with StorageDefender, our locations are proud to offer Smart Units to provide an additional layer of protection for your belongings while you're away.
Smart Storage Units are equipped with 24/7 surveillance monitoring and provide real-time mobile alerts when your unit is accessed. Enjoy peace of mind knowing your items are protected, no matter where you're monitoring them from.
Benefits of Smart Storage Units
Smart Units feature motion-sensing technology that creates a safe and secure environment for your belongings. If intrusion is detected in your unit, you will be alerted via text message with the option to contact your facility for further assistance. Rest assured knowing your unit is protected while still easily accessible when you need to visit your items.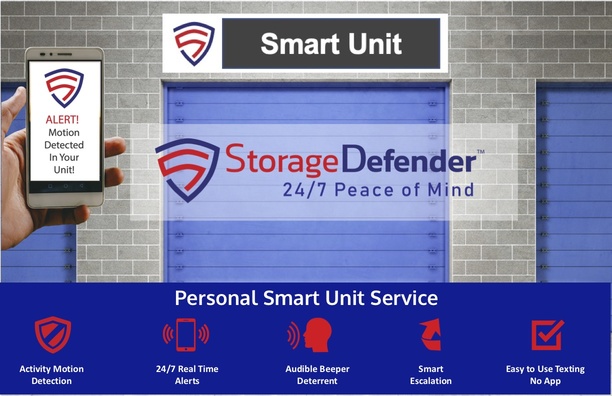 Additional features of these storage units include:
Storage Unit Monitoring From Your Phone
Instant Alerts, Audible Deterrent
Tenant-Specified Escalation
Easy-to-Use Texting, No App Required
Find Smart Storage Units at Many of Our Locations
Be in control and connected to your valuables with the help of Smart Units. Smart Units are available in a variety of sizes at many of our storage locations including:
Contact the facility manager at the storage facility nearest you for more information about this offering and to rent a Smart Unit today.
Don't see your facility listed? Contact the manager at your facility of choice to ask about getting StorageDefender installed on the unit you rent.
---
Not sure what size you need?
Choosing the size unit is important. Our online size guide can help you visualize how your belongings will fit in your unit before you move in. Check out our size calculator at a specific location for a more accurate size recommendation.
---