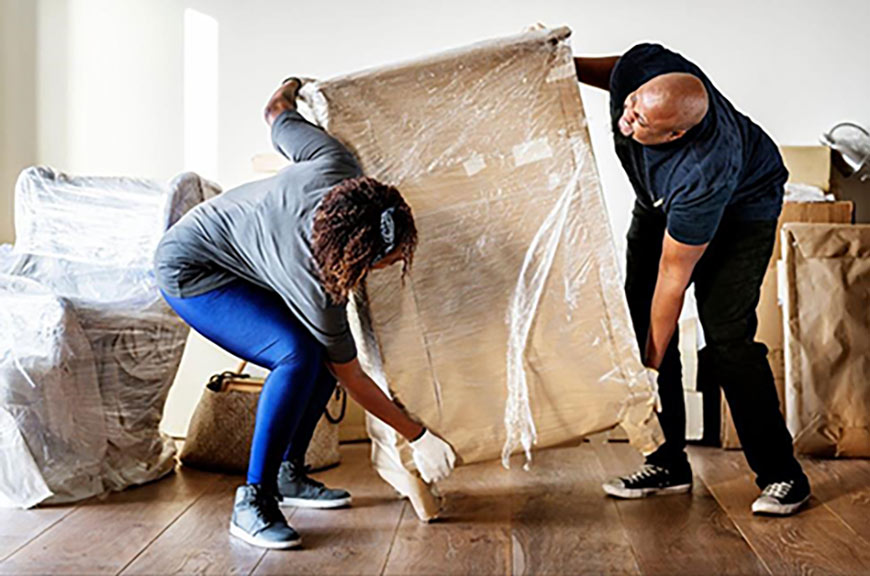 When selecting a storage unit for your belongings, there are a couple of core decisions you'll need to make. First, do you need a drive-up storage unit, or will an indoor storage unit work? Second, do you need a standard storage unit, or do you need one of those climate-controlled storage units that you see advertised online?
Thanks to California's pleasant climate, a temperature-controlled storage unit isn't always necessary. Indoor storage units that aren't air conditioned or heated are relatively effective in maintaining a consistent temperature. However, for some items, you should strongly consider temperature-controlled storage units.
At Saf Keep Storage, we have a wide variety of storage units to fit nearly any storage need. Here's our guide to temperature-controlled storage.
What Is Climate-Controlled Storage?
Commonly referred to in the industry as climate-controlled storage, these types of units can be more accurately called temperature-controlled storage. The vast majority of climate-controlled storage units simply feature temperature control and do not have humidity control—and obviously, they can't control the outdoor climate, either.
Depending on what part of the country you live in, temperature-controlled storage units can either be heated, air conditioned, or both. They come in a broad range of sizes and can be of the drive-up or interior variety.
Are Climate-Controlled Units Expensive?
Temperature-controlled storage units are usually more expensive than standard, non-temperature-controlled units of the same size due to the added maintenance cost of heating and/or cooling. Though temperature-controlled storage units can be more costly, these aren't always the most expensive storage units at a storage facility either.
What Items Should Be Stored in Temperature-Controlled Units?
Any items can be stored in temperature-controlled storage units. No matter what belongings you're storing, temperature-controlled storage can offer a comfortable storage environment. However, some items ought to be stored in temperature-controlled storage. The following is a list of some items (though it is by no means exhaustive) that should be stored in a temperature-controlled environment if possible.
Wood Items
Anything made out of wood can be warped by extreme temperatures. From wooden furniture to small keepsakes and even musical instruments like violins or guitars, these belongings are more sensitive to temperature than others. Additionally, wood items are particularly susceptible to moisture damage, which is more common in hot and humid temperatures because warmer air molecules can carry more moisture.
Electronics
Electronics are more common now than ever, with even traditional appliances like washing machines including screens and chips. Heat has the potential to damage electronics rather severely—it's why computers have fans to cool their components during periods of heavy use. But extreme cold can also be bad, especially for electronics with screens. LCD displays, or liquid crystal displays, can freeze and become permanently damaged under extreme cold. Additionally, those ink cartridges you might have with your printer can freeze.
Climate-Controlled Car Storage
Some self storage facilities provide temperature-controlled drive-up storage big enough for cars. Though non-temperature-controlled car storage is more common, temperature control provides another layer of protection. These types of storage units are ideal for sports cars and convertibles—especially if you live in a part of the country where winter weather gets dicey.
Other Types of Items
Many types of belongings can suffer damage if not stored correctly. Here are a few more:
Leather – If you don't want leather to crack, keep items of this material away from extreme cold or heat.
Musical instruments – With many intricate parts and particular dimensions for acoustics, even a little warping can damage or ruin an instrument.
Crayons and markers – Crayons can melt, and markers can freeze, so be aware when storing these school supplies.
Paint – Frozen paint can be unusable even after it unthaws, so make sure this does not happen by storing it in a room-temperature storage space.
Artwork – For optimal storage of art, especially paintings, keep them away from extreme temperatures.
Inventory – Pharmaceuticals are just some inventory items that should be kept at a consistent temperature.
Sentimental Items and Important Documents – Protect antiques, family heirlooms, photos, and important documents from fading and losing value by keeping them in lower temperatures.
What Items Can't Be Stored in Temperature-Controlled Units?
The items that can't be stored in temperature-controlled units are no different from the items that can't be stored in standard storage units. Each storage facility has different requirements, but in general, you cannot store animals, perishable food, or illegal items (including weapons and drugs) in your storage unit. You may also not live out of your storage unit.
If you're not sure what can and can't be stored in a temperature-controlled storage unit here at Saf Keep Storage, read our rules and regulations or reach out to your local storage facility.
Rent Temperature-Controlled Storage Near You
Whether you're storing temperature-sensitive items or you simply want the most comfort when loading and unloading, temperature-controlled storage units can help you overcome your need for space. Here at Saf Keep Storage, we proudly provide temperature-controlled storage units at three of our sister storage facilities, from Hawaii to the Bay:
At Saf Keep Storage, we're proud to provide interior storage units and temperature-controlled storage units that provide additional protection. No matter if you're looking for self storage in the Bay Area or SoCal, we've got you covered. Find a storage facility near you and get storing today!
---
You Also Might Like