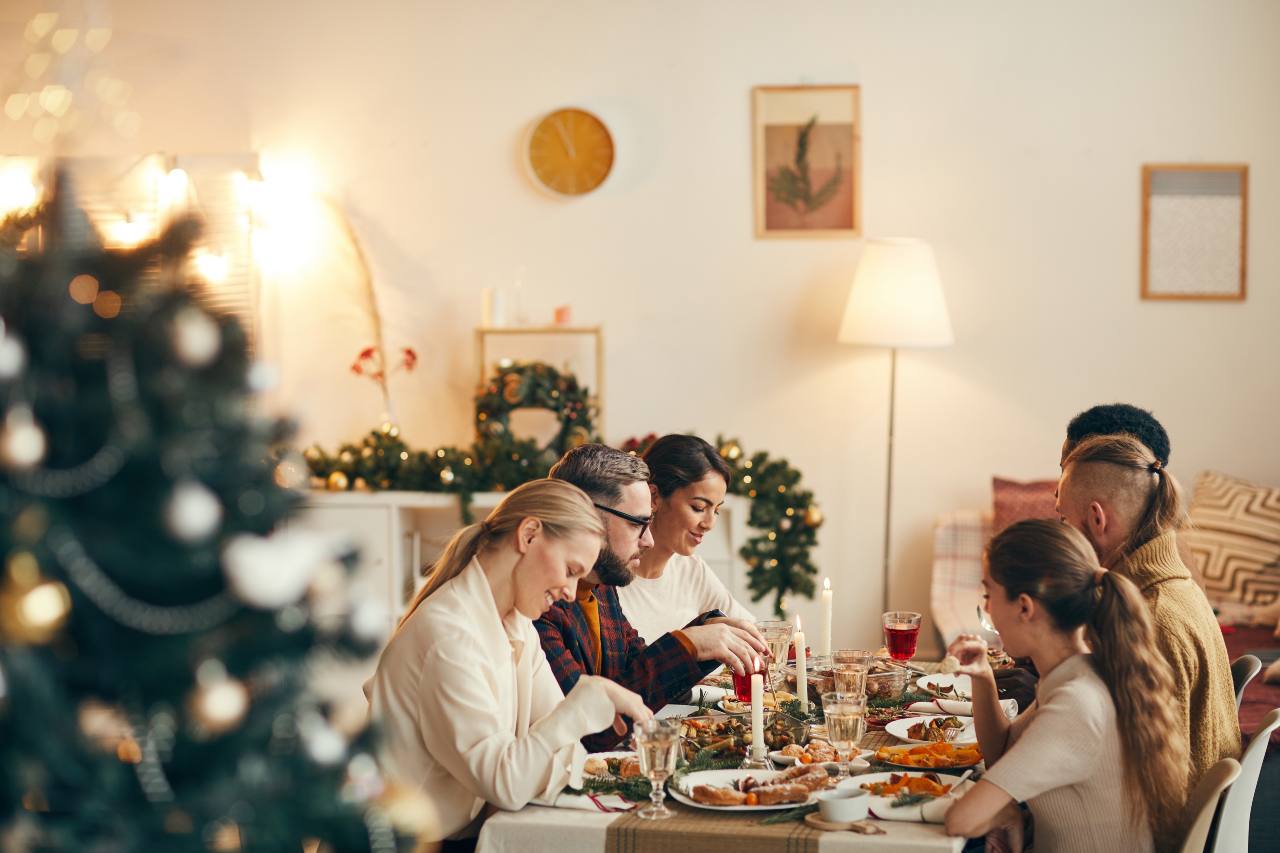 Hosting a holiday party can be a fantastic opportunity to reunite with your loved ones and create new memories. However, holiday parties can also feel like a flurry of stress, especially if you're attempting to make a small home or apartment accommodate more people than you normally entertain in it at one time.
Although it may be intimidating, don't let space constraints prevent you from hosting for the holidays. With a little extra planning and elbow grease, you can help transform your house into a welcoming winter wonderland for you and your guests – even if you have limited space to work with. 
Tips from the storage experts at Saf Keep Storage to transform your living space into a holiday party venue that fits just right.
Determine Your Storage Options Early On
For situations where you know space is going to be tight, identifying your storage options early can be a big help. Make sure to think about how you can utilize all your closet space, basements, and even cabinets to keep items not being used for the party tucked away. If you already have a storage unit or are considering renting one, it can be a great option for getting miscellaneous items out of the way. Personal storage can also be utilized for hiding gifts from members of your household and decorations including lights, ornaments, or wall decor after the holidays.
Fully Prepare Your Hosting Space
While you're planning your party in a small space, you'll want to think about your furniture layout. If your current arrangement isn't ideal for the flow of a holiday party, rearranging your furniture may help. Make sure to clean your home thoroughly to eliminate those sneaky dust bunnies before guests arrive. Unfortunately, Santa's elves probably won't help you prepare your party space, so you will want to schedule time in the weeks before your holiday party to get through these important steps.
Don't Be Afraid to Rearrange
Think about your guest count and any activities, meals, and games you want to have in your space, and consider how you can make your furniture best support the physical flow of your party. Get creative, and don't let how you've traditionally arranged your furniture prevent you from discovering a better setup for hosting during the holidays. If you live in a warm climate, you also don't have to feel limited to only indoor spaces. If weather allows, take advantage of your outdoor space and let your guests roam your patio, balcony, or yard, too.
One trick that can help keep the clutter brought in by guests down is to have a designated area for shoes, hats, coats, bags, and other personal items. When you have an area for your guests to set their things down, they don't have to wonder what to do, and you don't have to worry about their stuff getting scattered around as much.
Store Extra Furniture for the Short Term
If you have a couch or dining table that fills your entertaining area, consider placing them in storage to create additional sitting or standing space for your party. Before moving furniture or appliances into storage, take time to clean and disassemble everything you can. Even if you're only using self storage temporarily, you'll still want to wrap your items in sheets, blankets, drop cloths, or plastic wrap to protect against scratches and scuffs. Our storage unit size guide can help you choose the perfect unit to fit furniture, décor, and more.
Knock Out the Dust Bunnies with a Deep Clean
Although it can be time-consuming, cleaning and prepping your space fully can take some of the stress out of hosting for the holidays. Don't worry about noticing cobwebs and dust bunnies mid-conversation during your party. Set aside the time to thoroughly clean your whole home before the guests arrive—ideally, a few days in advance (so you still have time to catch the dust bunnies you inevitably miss the first time).
The ideal deep clean involves a full top-to-bottom scrub of each room while it's fully cleared of furniture. Realistically, that may not be feasible, so you may need to work around your furniture and other items during a clean. If you choose to do this, just make sure to clean after you do any rearranging and fully clean under and around all the furniture you may move. You don't want to move your couch as the guests pull into your driveway and discover a total dust disaster zone.
While you're cleaning, make sure to hit both the obvious and non-obvious spots. Areas like the insides of cabinets, freezers, and under your bed can often be made much more efficient for holiday party-related storage with some sorting and clearing. Plus, making room in your freezers, fridges, and cabinets can mean more room for yummy holiday treats.
Plan for Everything the Festivities May Bring
As you wrap up your pre-party cleaning, try to make sure you have enough cleaning supplies left for quick cleanups during and after your party. Spills and messes happen easily and having supplies on hand means quicker clean ups for emergencies.
Plan Your Surface Space Carefully When Hosting a Holiday Party
When counter space and tabletop areas are limited, making enough surface space can be a struggle. Make sure you leave enough tabletop space around for food prep and for feeding guests by planning how you can most efficiently use your surfaces ahead of time. Try to avoid using dishes larger than you absolutely need for food plates and use any stacking serving trays you have or are willing to purchase to keep your surface space usage as efficient as possible.
Deck the Halls – Thoughtfully
You want to set the tone for holiday cheer when you're hosting for the holidays, but that can be easier said than done when you're trying to throw a party in a small space. Luckily, there are some tips and tricks you can use when it comes to accenting your space without overcrowding it.
Less May Be More
Figuring out how to host a party in a small space can be tough enough. Trying to make that party the perfect holiday celebration can take the challenge to the next level. It's essential to add some touches of holiday flair to get the party started, but you'll want to be thoughtful about keeping your décor simple to avoid accidentally making your space feel even smaller in the process.
Generally, you'll want to steer away from going crazy on small decorations, since too many knickknacks could make your space feel cluttered. Sticking to larger statement pieces and clean lines in your décor can help you decorate without adding clutter. Plus, decorating with mirrors and sticking to long (or no) curtains are great general tips for making your space a bit larger.
Depending on the color palette of your space(s), you may want to consider lighter-colored decorative pieces. White, silver, and other light-colored accents may help add a little holiday elegance without adding as much visual clutter as more traditional red and green decorations.
Additionally, consider the options that will help you add a touch of holiday style without taking up tons of square footage. Utilize mini decorations, furniture covers, table clothes, pillows, blankets, and even window decorations to deck out your home. You may even want to consider skipping the full-sized Christmas tree to save some room. As an added bonus, smaller décor projects can be DIY-ed to save extra cash.
Getting all new décor for your holiday party? Set it up a few days in advance, so you know if any decorations are placed impractically and if they will hold up with the hustle and bustle of your party. After all, it's much better to find out your reindeer statue is going to be a little unbalanced before your party than after it crashes into your dessert table or present pile.
Consider Non-Visual Elements for Showing Your Holiday Cheer Without Using Space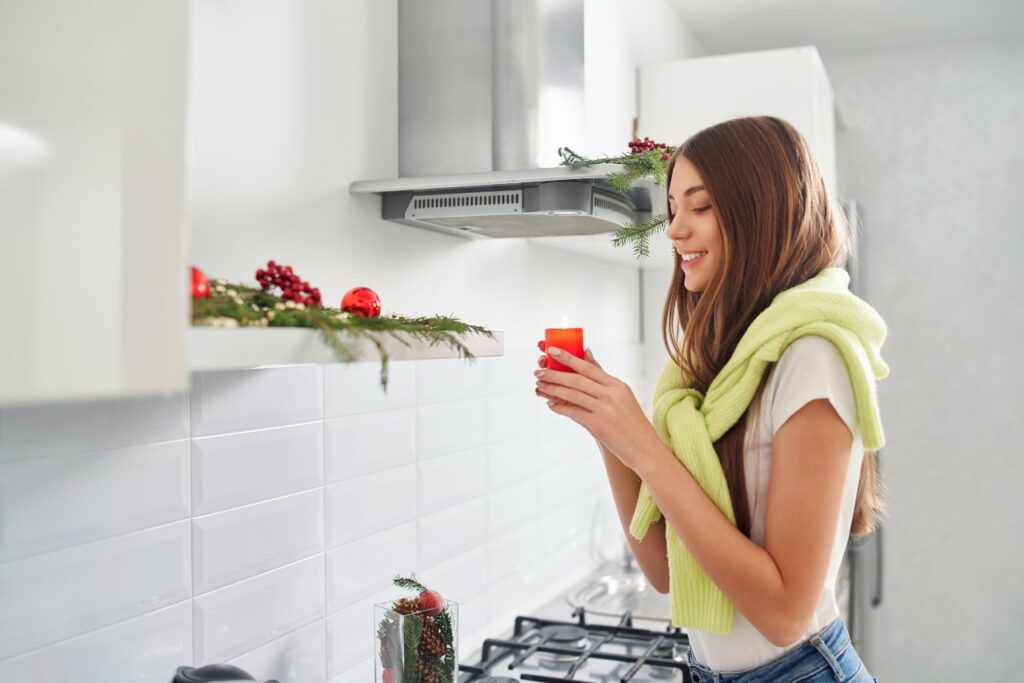 Looking for other ways to get your place set up for the holidays without taking up even more space? Consider using scents, music, and lighting to set up your holiday theme without cluttering your party flow. Grab some winter-scented candles and potpourri, or even just fresh wreaths, to add a little holiday flair.
Having only one central lighting source can contribute to making your room feel small. Disperse some lighting around more evenly and add a touch of holiday magic with Christmas lights or other wintry light fixtures, lamps, and more.
Need Backup Storage to Make Your Holiday Party Happen? Saf Keep Storage Can Help!
Working through the first step of identifying your storage options and realizing you don't have space for everything you'd need to tuck away? Get the storage space you need to host a holiday part when you rent or reserve a storage unit online at Saf Keep Storage. Find a storage location today. We have facilities in California, Hawaii, and Nevada.
Wondering if getting a personal storage unit for hosting a holiday party means you have to keep it for the long term? Saf Keep Storage rents storage units month-to-month, so you can get one just for the time you need. Find a storage unit to fit your needs and start planning your holiday party today. We're here to help with free move-in help, packing supplies for purchase onsite, and more!
---
You Also Might Like