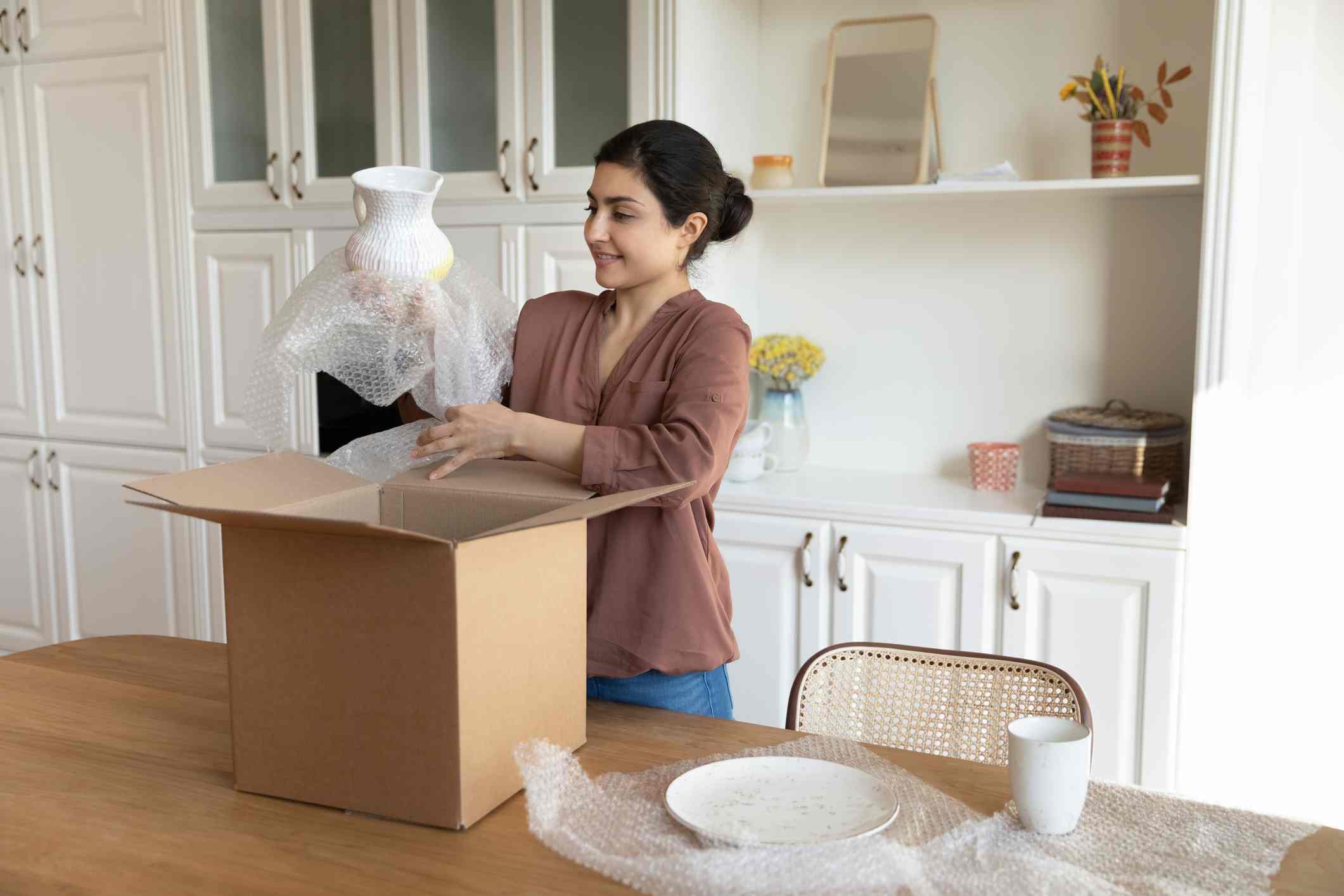 Packing dishes and glasses for storage requires additional care to make sure they are not damaged during the moving and storage process. This blog will explore the importance of proper dish storage, the supplies needed, and some tips for storing dishes in your storage unit. Whether you're moving and want to protect your everyday dishware or you're stashing away fine china between special occasions, Saf Keep has some practical ways to ensure your dishes and glasses remain safe and protected. We also have great self storage spaces available. Just find a self storage facility near you to start a storage unit rental.
Prepping Your Dishes for Storage
It's important to provide adequate packaging to protect your fragile dishware. It's obviously disappointing if your dishes break, as you'll need to replace them, but proper packing is also a good safety measure. It can be dangerous to reach your hands into boxes that may contain shards of broken glass and sharp materials.
Start by cleaning your dishes. If you're washing delicate pieces you're nervous about breaking, lay a towel at the bottom of the sink to provide an extra cushion of protection. Dry all dishes you're storing thoroughly using a soft cloth, like a flour sack or microfiber towel.
Organize your dishes and keep the sets together to keep from losing or misplacing items if you're using multiple boxes. Labeling your boxes with notes on the contents can help make finding everything that much easier later on.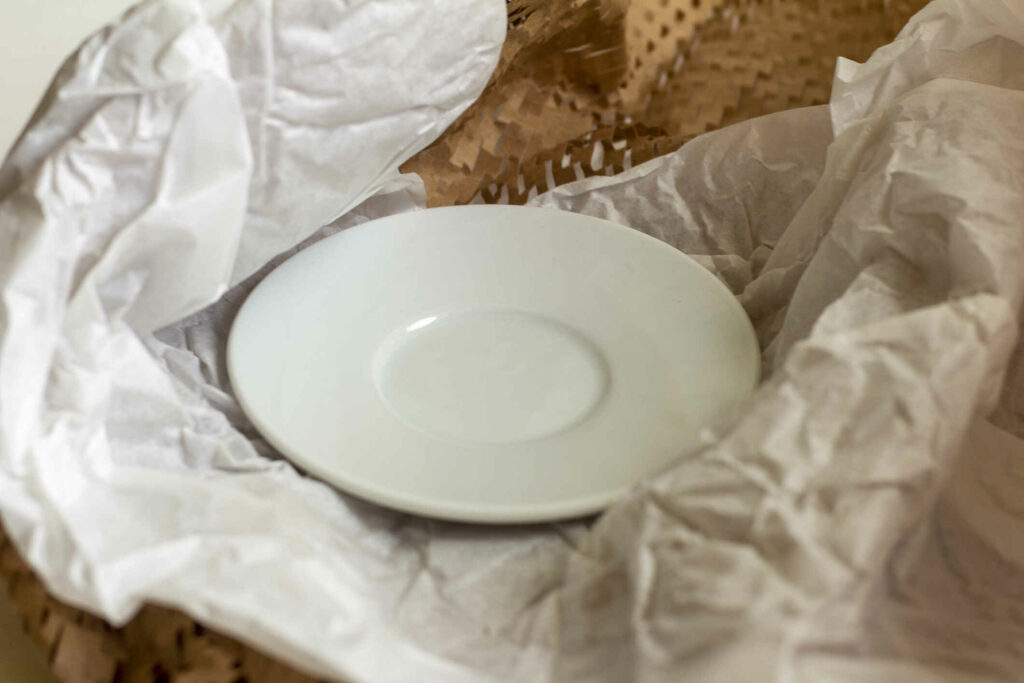 Packaging and Supplies Needed for Storing Dishes
Many of us have some beautiful dishware in our homes that rarely (if ever) gets used. Perhaps you were gifted expensive dishes as a wedding present or inherited some irreplaceable glassware heirlooms you want to keep stored and safe. But, even if you're only packing up everyday dishes for storage, you'll still want to keep them from breaking, cracking, or chipping.
Be sure to also get plenty of packing and wrapping materials, so you can snugly pack your boxes. You may also want to grab some dish protectors as you're gathering storage supplies. Try to avoid using newspaper or gift wrap as the ink may end up staining or leaving marks on your dishware.
Some dish packing supplies you'll want on hand include:
Boxes or storage containers
Packing paper
Dish foam sheets or bubble wrap
Packing tape
Glass dividers
Tip: Ask your local grocery or liquor store if they have unneeded boxes you could take. These often have cardboard dividers, which can be a great option for vertical dish storage. If you plan to stack your dishes vertically within your storage containers, you'll want to be especially aware of the weight of items you stack on top of other dishes and the durability of the cardboard or other dividers you use.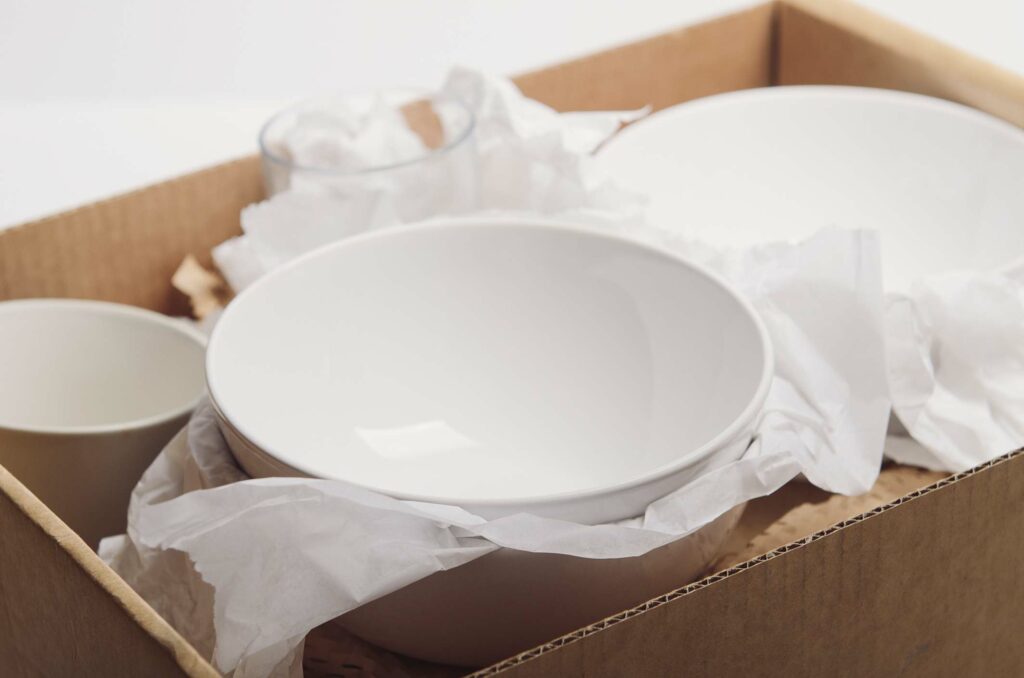 Wrapping and Packing Your Dishes for Storage
Every single dish that goes into storage should be wrapped. Some people might choose to skip wrapping items made of materials like plastic and silicone, but it's still a good practice to wrap those, too. Taking this step can help decrease the likelihood of dishes scratching or bumping against each other.
If you want to avoid purchasing wrapping materials, you could use things you already own: clean towels, paper towels, doilies, T-shirts, dish towels, or blankets. However, if you're going to pack these boxes away for a long time, make sure you're not using items that you will want as packing material.
Another option is to invest in quilted dish protectors for storage and moving. These do a great job of keeping dust off dishes and adding a bit of extra cushioning, but you'll still want to consider using additional packing materials to ensure the dishes don't bump or break when your containers are moved or stacked. If you vertically stack your dishes within the boxes, make sure plenty of cushioning and packing materials are there to act as a buffer between layers.
Finally, close up your containers. If you're using cardboard boxes, be sure to tape the tops shut to keep out dust. Label the boxes clearly, ideally on the top and sides so they're easy to locate your items later on when you want to find your dishware. It's also helpful to label these boxes as fragile. Dishware can get heavy quickly, so be mindful of how much you're packing into each box and be If you use cardboard, be sure to reinforce the bottom with packaging tape to ensure it won't open when you lift the box.
Getting Additional Storage Space for Your Dishes
Needing square footage for storing your dishes? Storage units can help you get the extra room you need, regardless of if you're just in a temporary storage bind or need a long-term solution for personal storage.
When putting dishes into a storage unit, make sure you're not putting too much pressure on the boxes. It's not ideal to stack boxes of dishes and glassware on top of each other if you can help it. Placing these boxes on storage racks is typically best, as the weight is more evenly distributed and they're off the ground, keeping them safe from accidental jostling.
When you're looking for storage space for your dishes, trust Saf Keep Storage! We're here to help you store all your dishes, from your everyday sets to your finest china. Saf Keep has storage facilities in California, Hawaii, and Nevada. Just find a storage facility near you to start a storage space rental online now!
---
You Also Might Like