Life changes are never easy, whether you are moving to a new city, starting a new career, moving on from a relationship, or grieving the loss of a loved one. Each change brings its own swell of emotions.
As you navigate your way through these changes, you may find yourself with a collection of mementos of family heirlooms you weren't quite ready for. What should you do with those sentimental belongings you cherish but that are taking up space? At Saf Keep Storage, we are here to help you find the right storage space in Los Angeles for these special belongings.
Sort Your Sentimental Items
No matter your reason for sorting through sentimental items, you might feel guilty at the thought of letting these pieces go. Remember, you are getting rid of the item, not the memories. As you sort, hold each item, and take a moment to ask yourself some questions.
Why am I holding onto this?

Do I need this item?

Would someone else enjoy this more?
By examining your reason for holding onto or letting go of these items, it becomes easier to decide what to do. It can take minutes, hours, or days to sort through items, especially if you're also working through grief. Take your time, and don't rush through the process. You might end up getting rid of something and regret it later. Remember that this is a process, and it is ok to take the time you need. Try to keep a clear mind, and be open to the idea that it is ok not to keep everything.
Organize and Declutter
After sorting your sentimental items, it's time to organize and declutter. Organize your belongings into the following categories:
If you're unsure about some items, hold onto them and repeat the process again in a few months. Recycle or throw out your trash pile, and then box up your donations and drop them off at your local charity shop (take note of the items you're donating for taxes). Sort through your keep and sell piles one last time. You might decide to part with a few more items. Then start listing your sell items online or take them to consignment or collectors shops.
For those items you've decided to keep, box them up to prepare them for storage or to take home with you. If you have a small box of grandma's china, it can be put on display or stored in a closet. If you have more than a box or two, consider a storage unit.
Prepare Your Sentimental Items for Storage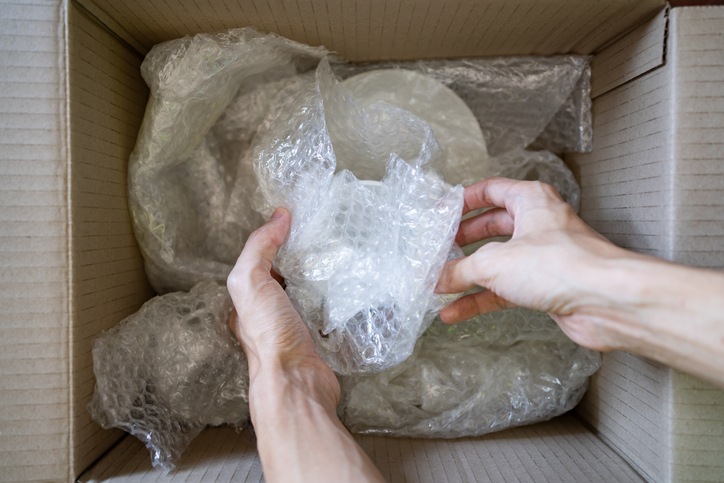 Once your home is cleared from the items you chose not to hold on to, you'll be left with the pieces you care the most about. These items are irreplaceable and should be stored with care. Follow these tips to prepare your sentimental items for storage:
Wrap each item carefully and place in a plastic storage container.

Label each container with its contents. Some suggestions include dates, materials, people, events, or what the item is used for.

Use acid-free packing supplies to protect those items, and add moisture-absorbing packets inside each container.
For larger items such as furniture, here are some guidelines to keep in mind before you stash them in storage:
Wrap the items in bubble wrap or in acid-free foam to protect them from getting scratched in the moving process.

Consider using corner protectors and furniture blankets to avoid knicks and scratches while moving them.

Cover furniture once it's in storage with a large sheet to protect it from dust and discoloration.

Avoid stacking anything on top of the furniture to prevent damage.
Storing these items can be an emotional process. But remember, they aren't going away forever. You can always take items out of your unit and work them into your home décor. If you're moving, you'll soon be unpacking them in your new house.
Find Nearby Self Storage in Los Angeles and Hollywood
Whether you're storing a household of items while preparing to relocate or simply need a little extra space for your family heirlooms, Saf Keep Storage has a unit for every need and has extra services to help your move go as smoothly as possible. Ready to sell some of those items? Saf Keep provides a safe, secure, and convenient space to buy, sell, and share items for free through BuyStorageFinds. We even provide concierge selling services for those who need a partner in selling a larger quantity of items.
When you are in need of extra space to meet the challenges life can bring us, Saf Keep Storage is here to help. Explore our locations in Los Angeles and across California and Hawaii, and give our helpful storage professionals a call when you're ready to tackle and organize any of the items, sentimental or not, in your life.
---
You Also Might Like